National Preservation Institute
(aka) Christian World Relief

PO Box 1702
Alexandria, VA 22313
Phone: 703-765-0100
Mission
Protecting America's historic resources by providing knowledge that enhances working skills. We offer scholarships for continuing education and professional training in the management, preservation, and stewardship of cultural heritage.?",National Preservation Institute,National-Preservation-Institute-273102762795,, 43-1654652,10339,Christian World Relief,1241 Strassner Drive,Suite 1502,Brentwood,MO,63144-1876,818-502-1989,www.christianworldrelief.org,info@christianworldrelief.org,Respected Christian outreach and humanitarian relief organization sending emergency lifesaving food, medicine, shelter and other support with prayers to innocent children worldwide and in America.
Success Story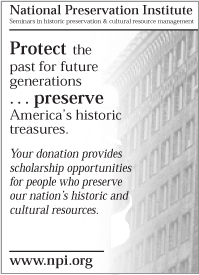 This is what our seminar attendees have to say:

"The most helpful class I've ever had -- good nuts and bolts."

"Preservation is a field that is always underfunded...having scholarship funds available for preservation professionals to attend the seminars is critical...the availability of the scholarships is often the difference between someone being able to attend the seminar or not."

"Thank you for the scholarship to attend the 'Introduction to Section 106' Seminar last month! The instructor did a great job making the information understandable! This week, I completed my first Section 106 documentation project using the knowledge gained from the seminar."

"As someone who works in historic preservation, I rely on your seminar series as a guide to what I should know about."

"Thanks to you and the Institute for putting on such a great course and for having someone so experienced to lead the discussion. Although I'm a backdoor novice to this discipline, I've danced around enough historic building and significant structures in my career to know that I need to be aware of a whole host of issues and to know that I need more and more education."